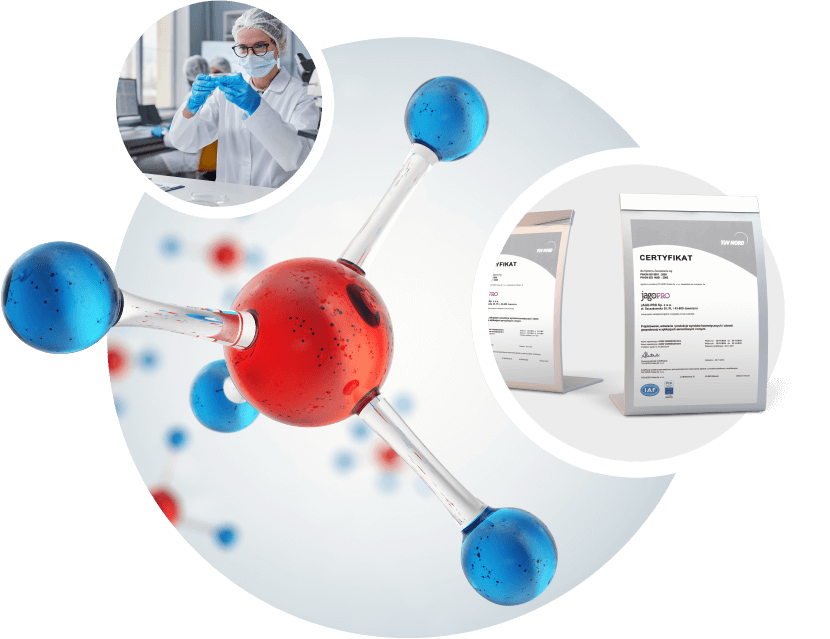 At JagoPro, we know how important the high quality of your products is.
Safety of use is a key aspect for us. That is why we have implemented detailed controls at every stage of the production process to ensure the required quality of your product.
The Quality Division is divided into three departments verifying the parameters of components, semi-finished products and finished products.
_ 3 QUALITY VERIFICATION DEPARTMENTS
Testing of starting materials
for production
Interop analysis of the formula
Performing analyses
physicochemical
Quality Control Department
Detailed checking of component deliveries in accordance with
the PN-ISO 2859-1 standard
Detailed product testing
during production
Control of parametersand correctness
of the production line settings
Inspection of the finished product in accordance with the PN-ISO 2859-1 standard and the act about packaged goods
Release of the finished product
for the next stage of the order
fulfillment process
Quality Assurance Department
Contact with customers and suppliers
in matters related to quality, documentation
Development of production documentation
Supervision of customer audits and corrective actions
and preventive
Releasing the finished product
for trading and shipping
Experience supported by certificates of world-class units
and a well-trained team work on the quality and safety of products.